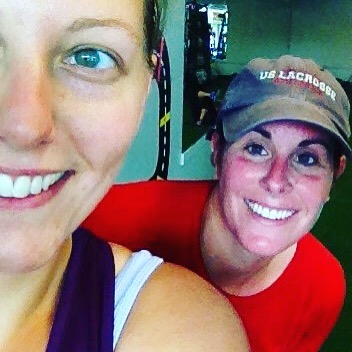 I won't go on forever about where it all began.  I pretty much don't know if there was ever a time that I wasn't in need of losing a few pounds here or there.  I always like to consider myself "athletic" even when carrying extra weight. I played sports and ran through my high school career.
After having my daughter in 2006 I was determined to lose enough weight to feel comfortable in my own skin.  I started going to the gym. Working with Rob, a trainer to figure out a routine (that makes a world of difference to me). I paid attention to what I was eating and felt great.  By the time I got pregnant with #2, I had lost the baby weight from #1 plus 30 pounds.  During my second pregnancy, I was determined not to gain too much and continued to work out until I was about 7 months pregnant.  After I had my son, I got right back into the gym (do you see a theme, one of my "better" addictions), continued to eat healthy and before you know it, I was down 70 pounds from where I started in 2006.  This did not happen overnight by any means.  This was over the course of 3-4 years (and two pregnancies). Needless to say, I felt pretty freaking amazing. I managed to maintain my weight loss (I'm an excellent maintainer, hence working out to allow myself the extra drink or treat) fluctuating up and down 5 pounds or so.
In 2012 I met one of the most influential people to me, Michelle my trainer. Her energy was contagious, she pushed me beyond what I ever thought possible for myself.  She too had struggled with weight (long before) but had tips, tricks, and tried and true methods.  We worked out in a small group setting, I loved every minute of it.  She created some crazy workouts for us, you know the kind where you can't walk the next day. Ahhh..hurts so good! She taught me several things, but one thing sticks with me to this day "be brave, speak with confidence (even when you don't feel it), listen carefully, choose wisely, and most importantly be you!"
She nudged me (maybe a few times) to try her spin class; another addiction and I can honestly say hers was the best! After an hour of pushing yourself to the limits, sweating more than you ever thought possible, you walk out of the room feeling so f#$king amazing! So good! It was also during this group training that I was introduced to TRX suspension training, tough stuff!  It was awesome and I can't wait to one day have my own spot in my house to get my TRX on whenever I feel the need :). Love you Shell XO!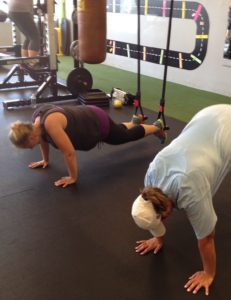 Fast forward to present day, I had a baby (#3!) eight months ago.  I am down to my pre-pregnancy weight and ready to finish this. My goal has never been to be a stick figure. It's not how I'm built ;). My goal is to look on the outside how I feel on the inside; legitimately happy, excited, and passionate. My physical transformation changed my mindset; I'm a completely different person than I was ten years ago when this all began. Hell, I'm not even the same person I was six months ago.
I'm not going to focus on the scale, but rather health and how I feel.  I'm doing this for me, and a number is just a number. All things in moderation, you only live once make the most of it. Have fun. Try new things. Embrace the excitement. Love much.
XO,
Badass in training 🙂