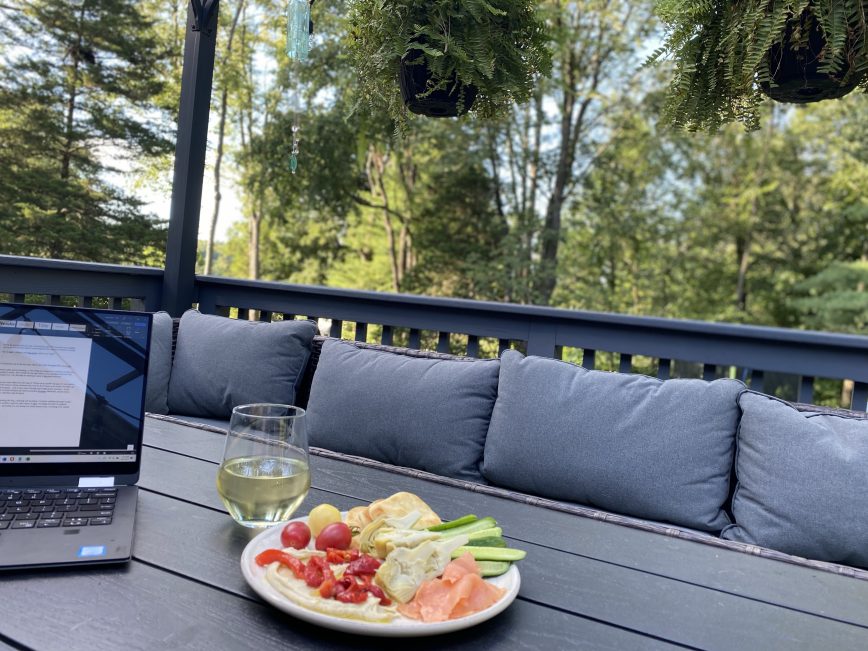 Welcome to my table for one!
***********
Open Space – free to receive what you've made space for – Look at all the room for activities!!
I've been playing the Beatles nonstop lately at home all the time and it delights me to know that my daughters do the same when they go stay with their dad.
************
Every accomplishment starts with the decision to try.
Finding yourself isn't really a "fake it til you make it" type of scenario – you must do the work. The sad truth is, many will never try – it seems impossible or daunting. Looking at yourself in the proverbial mirror and picking apart your why's is one of the hardest journeys you could ever endure. There is no instant gratification, and once you think you've conquered it…something else will creep through. It's an ever-evolving process – but I assure you, the journey and hard work is 1,000,000% WORTH IT; and so are YOU!
Coming out of a "messy season" – I am ready for
the most loving chapter of my life to begin.
One of the things I love for myself since I've been blogging for over seven years…is looking back to where I was at any given point. This is why journaling is so powerful. You don't have to be a fancy writer; you don't even have to use full sentences. Being able to reflect on a thought to where you were, is a magical tool. I strongly encourage you to begin writing down your thoughts – as real and raw as they come.
************
Talk about a Thursday night – if you haven't read it, or want a refresher…
I just completed a ten-day journey for myself…in my living room. My kiddos went away with their dad and stepmom on vacation. It's not quite as easy as it appears (although, it's wayyyyyyyy easier than it used to be). I know all my married friends never understood why I would be so sad when I would spend those nights solo. I was sad because I was mourning what was and had to take the time to do so…only now I REALLY do appreciate my alone time.
I won't lie, I was a little nervous it would be too much time solo – I didn't want to fall into any "feeling sorry for myself" thoughts. And while we're on the topic, can I just say, as you evolve it doesn't mean you won't have those initial thoughts – your growth helps you deal with it all differently. It's how quick you can "flip the switch" and find gratitude in that moment.
I know what you're thinking…is she eating ice cream in her pajamas at 2pm on a Sunday? I mean…don't think the thought didn't cross my mind! But that's the beauty of it, I can literally do anything I want in each moment. And the reality is…you can too!
I spent a considerable amount of time…cleaning out my inbox. I've been marking messages to get back to, articles I want to read, ideas, to dos. I'm taking the time to organize myself – and while I'm not doing it to show anyone else…I'm doing it for myself.
Have you ever fallen into the trap of "I'll just do it myself" because It's too hard to take the time to show someone else how to do it?
Take the time.
Every new season we enter, we need to pause – and it may seem virtually impossible at the moment – but in order to move forward we need to practice to the pause. Marinate, absorb, learn, teach, and then step forward.
My strengths as an empowerment and transformation coach – are my empathy, my intuition, and most importantly – my authenticity in how I show up and hold space for my clients. I truly love this work!
I think one of the trickiest things for me to overcome is knowing when NOT to help. Gauging when someone may have the desire but may not be quite ready yet, and as excited as I am –  I can't force them into it.
They must want it for themselves more than I do. And I love to see people grow and step into themselves!! It's such an honor to watch, guide, and observe.
I have all this "open space" now. I've been focusing on my new offerings and creating some great plans, exploring studio space, brainstorming, and dreaming up new and exciting ideas!
When we're tired, when we're neglecting our own needs, when we're all "scrambly" inside our fuses tend to be short, the kids are getting on every nerve for asking questions, and that's when you know you need a time out.
Why do we push away the things that feel good? Because what we're currently doing feel safe and comfortable – and being happy, might feel weird. We can do it temporarily, but we don't want to stay outside that comfort zone for too long…
It's a new month. August is here, and the beauty of flipping the page on the calendar, is that we can begin again. We can choose to lead a different life. We can choose to live in abundant love, or we can choose to stay where we are.
So, decide. What's it going to be?
Unsubscribe
Unsubscribe to things that don't serve your purpose or get you closer to your goals.
Unsubscribe from negative thoughts – it takes so much practice!
Unsubscribe from the drama and stress from people who don't bring you joy.
Unsubscribe from the things that don't bring you joy.
Unsubscribe to the thought that you aren't worthy.
Unsubscribe to the thought that you don't deserve true love.
Stop making comparisons with other people's expectations of you. You spend some time with yourself and do and think how you want to.
This is your life, no one else is going to live it for you. At the end of the day, it is YOUR story.
Close your eyes and think about what brings joy to your life. When were you your happiest? Who were you with? Where were you?
Make a list. Do those things. Nothing is impossible.
If you find things that make you feel good, then you need to start to make those things happen. Don't let your shyness or self-esteem issues get in the way because it's only you who sees those negative thoughts.
Live the life you imagined and start it today.
 XOXO,
Laura
"There is nothing more rare, nor more beautiful, than a woman being unapologetically herself; comfortable in her perfect imperfection. To me, that is the essence of true beauty." – Steve Maraboli